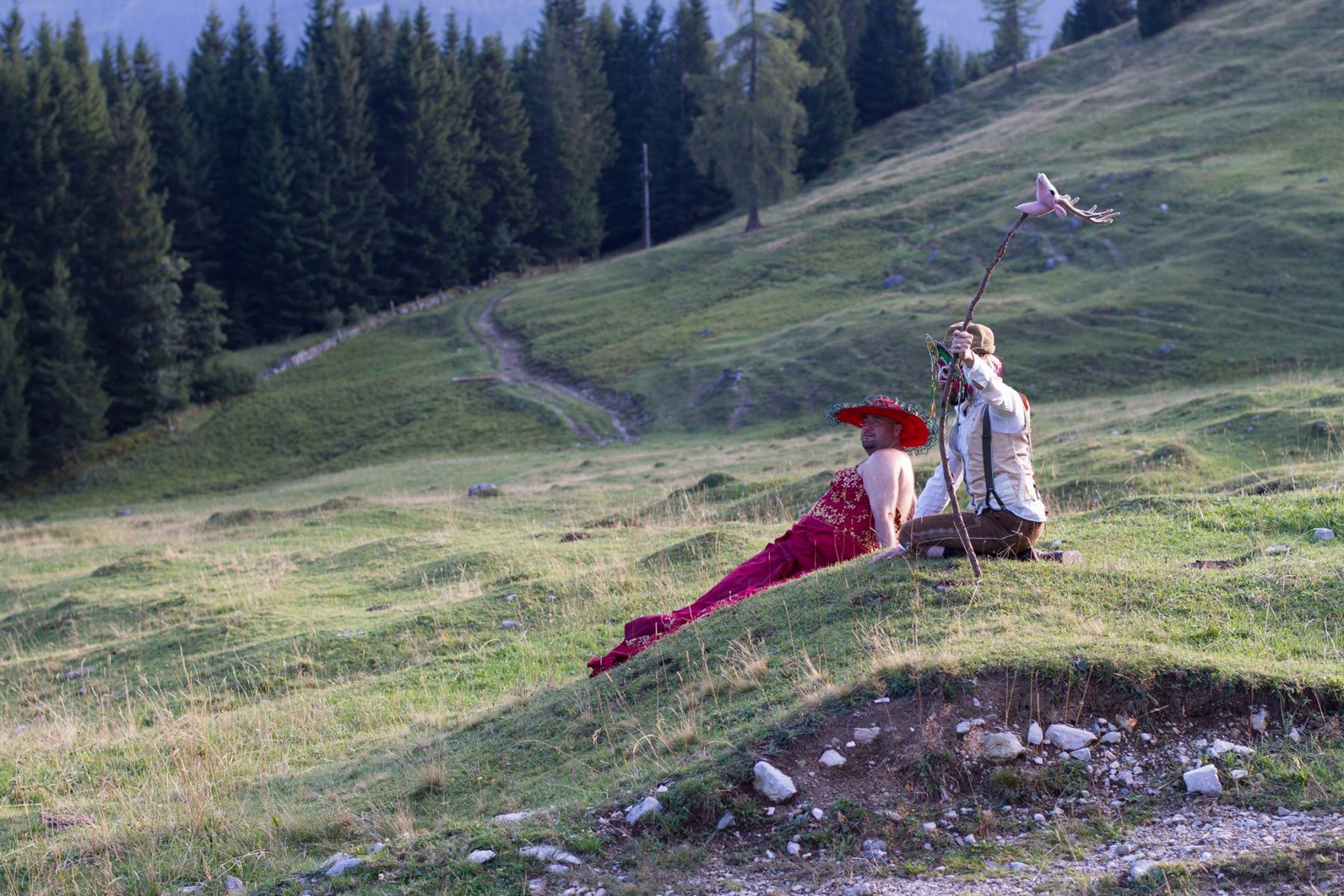 Credits:

Categories: Documentary Film, Art as Research
Date: 2012-15
Direktion, Filming, Editing: Georg Vogt, Christian Karst
Artistic Research & Art Direction: Itshe Petz
Graphic Design: Clemens Fischer
Original Score: Masha Dabelka feat. Joan
Executive Producer: Maria Teresa Napoli & Christopher Kruegel
Subtitles & Translation: Birgit Roberts
Featuring Music by: Antonis Lambropoulos & Verena Werni, Amit Hayo, Sanna Pirita, Two Dudes in Love
With: Bindu, Mata Hari, Red Rose, El, Matty, Itshe Petz, Mother Goose, Bobby Joe, Der Rurtaler, Helen Zangerle, YKMANN, Jim from Rural France not Paris, Verena Werni, Yeorg Kronnagel, Ando Rok, Shokti, Doro, Black Panther, Roxie Tart
More Information: Homepage Symbiofaerietaxiplasm
symbiofaerietaxiplasm
Symbiofaerietaxiplasm is an experimental documentary on the beginnings of the radical faerie movement in Austria. It follows the appropriation of a queer subculture that emerged in the 1970s San Francisco gay scene in an contemporary austrian environment. The film team collaborated with the faeries from 2012 to 2014. During that time faeries found their place in Lower Austria, but also invited the international faerie community to the first international Faerie gathering "The Sound of Faeries" in the alps. The film shows the faeries at public events, their faerie shows, everyday live at their sanctuary, their gathering and various ceremonies.
It also appropriates their artistic ways to express central issues of the movement in a cooperative manner. Taking the faerie idea of creative- and experimental spaces and their potential for self-development very serious the movie adopts open artistic forms, making experimental use of the cinematic space. Instead of a linear narration the movie consists of 7 chapters and 4 interludes all focusing on different kinds of articulations. One central question of the faerie movement also poses an interesting challenge to the filmic form that the movie embraces: How can we express ourselves without falling back to the false security of objectivity and its corresponding norms? The movie relies on a similarity of art and people in taking them serious as unresolvable riddles that keep us engaged in a fruitful process of interpretation. Whatever truths are to be found in this movie emerge from the collective interaction of all people involved.